Atem and innerest – Two sound installations
Exhibition/Cooperations
Parochialkirche
T wo rooms with contrary character - light and dark.
A production by singuhr — hœrgalerie in parochial.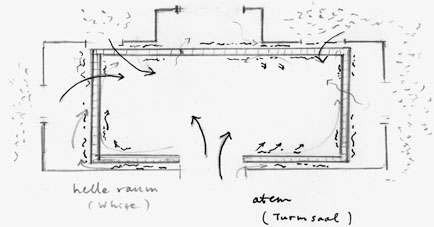 Atem und innerest 2006, Sketches, © Miki Yui
Two sound installations, atem and innerest
to observe our acoustic perception from either directions. The materials as well as small sounds added in each room are the little help listening to our surroundings.
Atem
a white sheet of paper
awating for an image
atem – breath
awaiting to become music
blowing through us
– paper walls create a space into a white sheet of paper.
movement of air inside and outside of paperwall gently changes the space
and the visitor's view.
Innerest
brick wall with low ceiling
entering the space feels like
into internal
different materials build landscape-like structure on the floor.
dim light and subtle sounds give a hint of it slowly growing inside.
Miki Yui
, born 1971 in Tokyo, lives in Düsseldorf. Artist and composer.
www.mikiyui.com