Public Broadcast Cart 2003–2006
radio/cooperations
Alexanderplatz und tesla im Podewils'schen Palais
Peformance
trolley, mikrophone, laptop (WLAN), soundcard, amplifier, loudspeaker, UKW-mini-receiver. In cooperation with tesla-berlin e.V. and radioeinszueins.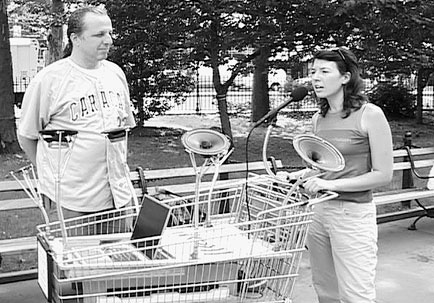 Public Broadcast Cart 2003, New York, City Hall Park
For his Public Broadcast Cart
, a work completed for the Wireless Lab Park Days in New York City (September, 2003), Zuñiga constructed a mobile radio transmitting station on a common grocery cart. The transmissions occupied three spaces: the audible space of the cart itself (via speakers mounted to the cart); an FM radio frequency; and an Internet-based audio broadcast (via the thing.net). Visitors to City Hall Park were invited to create their own broadcast for the three potential audiences.
Due to the ongoing policy struggles over the relaxation of media consolidation regulations by the Federal Communication Commission, as well as older attempts to expand the use of low power FM stations, the "Public Broadcast Cart" takes on specifically political meanings. But it is the intersection of the explicitly political with the potential for increased subjectivity that creates a subtle tension. Such tension is exacerbated further by the actual device used as the point of interaction – the shopping cart - highlighting the utopianism of the project as indeed transient and literally "homeless." Much like the earlier "Homeless Cart" project of Krzysztof Wodiczko, the "Public Broadcast Cart" is a utopian gesture that simultaneously points at the absurdity of the situation.
Ryan Griffis.
[Ryan Griffis]