djkl & The Temporary Soundmuseum present:
Stereo Action Club — The sonambiente public viewing world cup sound art lounge.
Lounge exhibition bar installation dj + live-music spoken word garden
Haus der Berliner Festspiele Schaperstraße 24, Kassenhalle and garden
Opening
9.June 17pm 10.June—9.July from 30 minutes before kickoff until 2 at night
Documentaries of the Lounge on the Homepage of the Soundmuseum
All WM matches to see and hear. Sound art and football unite in the Haus der Berliner Festspiele: The Stereo Action Club
Musician Kalle Laar (Temporary Soundmuseum Munich/Vienna) designs a visual and acoustic lounge as the meeting point for WM and sonambiente on match days, with a varied programme of art and special guests. All matches will be screened live in the Kassenhalle using the original broadcasts of the countries that are competing.
The Temporary Soundmuseum
mixes rare, remarkable and other recordings every evening for hearing and seeing. Fans have the opportunity to express their sentiments about the games on an Open Stage, while the garden and bar offer R & R – some rest and recuperation from football. And some guests are bringing along surprises, for instance: Christos Davidopoulos is coming with Echt Optimal, and Georg Odijk with a-musik (the heads of two of Germany's best record stores as djs and vinyl dealers), Markus Acher (The Notwist, Lalipuna) this time as dj, Lillevän's live video manipulations of the live games ... and other happenings that won't necessarily be announced far in advance ...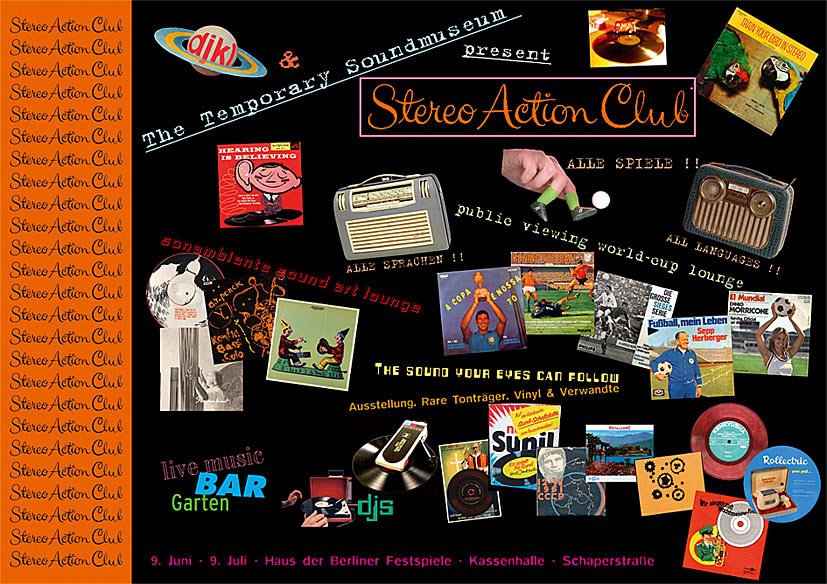 Fri

9 June

17:00

Opening

18:00

Germany

—

Costa Rica

21:00

Poland

—

Ecuador

'til

2:00

The Sound of Glory, live coverage and other heroic sounds special guest: Frieder Butzmann
Sat

10 June

14:30

doors open

15:00

England

—

Paraguay

18:00

Trinidad/Tobago

—

Sweden

21:00

Argentina

—

Ivory Coast

'til

2:00

Prisoners of Love. A Tribute to The Hand of God special guest: live-cooking by chef & tangero Gordon W
after the games: The Secret La Paloma Party
Sun

11 June

14:30

doors open

15:00

Serbia/Montenegro

—

Netherlands

18:00

Mexiko

—

Iran

21:00

Angola

—

Portugal

'til

2:00

2h From the series "Unfortunately we must remain outside" today: The commentary from Vienna. Live synchronisation by special guest Maschek
Mon

12 June

14:30

doors open

15:00

Australia

—

Japan

18:00

USA

—

Czech Republic

21:00

Italy

—

Ghana

'til

2:00

Stupid White Men. Can America survive?
Tue

13 June

14:30

doors open

15:00

South Korea

—

Togo

18:00

France

—

Schweiz

21:00

Brasil

—

Croatia

'til

2:00

Jüüzli Wanderley. Jodel goes Brasil and other obscurities from the rest of the world.
Wed

14 June

14:30

doors open

15:00

Spain

—

Ukraine

18:00

Tunisia

—

Saudi Arabia

21:00

Germany

—

Poland

'til

2:00

A Night in Tunesia. Swing the desert special guest: Hermann HoerspielBohlen
Thu

15 June

14:30

doors open

15:00

Ecuador

—

Costa Rica

18:00

England

—

Trinidad/Tobago

21:00

Sweden

—

Paraguay

'til

2:00

Nescafe Calypso. Finally more marketing. Vinyl advertising
Fri

16 June

14:30

doors open

15:00

Argentina

—

Serbia/Montenegro

18:00

Netherlands

—

Ivory Coast

21:00

Mexiko

—

Angola

'til

2:00

Music is the Healing Force of the Universe. Ayler help us through the night. special guest: dj Ed Bendorf
Sat

17 June

14:30

doors open

15:00

Portugal

—

Iran

18:00

Czech Republic

—

Ghana

21:00

Italy

—

USA

'til

2:00

Silly Melodies
Sun

18 June

14:30

doors open

15:00

Japan

—

Croatia

18:00

Brasil

—

Australia

21:00

France

—

South Korea

'til

2:00

Nikkei Down. Homage to the last WM organisers
Mon

19 June

14:30

doors open

15:00

Togo

—

Schweiz

18:00

Saudi Arabia

—

Ukraine

21:00

Spain

—

Tunisia

'til

2:00

Fit for the Games. We're getting healthy. Heart rate, doctors, fitness and other healing vinyl, special guest: Scharfness Institute with Le Chef Gordon W
Tue

20 June

15:30

doors open

16:00

Ecuador

—

Germany

16:00

Costa Rica

—

Poland

21:00

Sweden

—

England

21:00

Paraguay

—

Trinidad/Tobago

'til

2:00

Shankley Speaks special guest: dj Markus Acher (The Notwist, Lalipuna)
Wed

21 June

15:30

doors open

16:00

Portugal

—

Mexiko

16:00

Iran

—

Angola

21:00

Netherlands

—

Argentina

21:00

Ivory Coast

—

Serbia/Montenegro

'til

2:00

Astrosonic. Supersonic sounds, preview of the sampler by djkl & M.Acher special guest: dj Markus Acher (The Notwist, Lalipuna)
Thu

22 June

15:30

doors open

16:00

Czech Republic

—

Italy

16:00

Ghana

—

USA

21:00

Japan

—

Brasil

21:00

Croatia

—

Australia

'til

2:00

from the Mini-Record Shop series: special guest echt-optimal, Munich, with dj Christos Davidopoulos
Fri

23 June

15:30

doors open

16:00

Saudi Arabia

—

Spain

16:00

Ukraine

—

Tunisia

21:00

Togo

—

France

21:00

Schweiz

—

South Korea

'til

2:00

Dope & Glory, from the Mini-Record-Shop series: special guest echt-optimal, Munich, with dj Christos Davidopoulos
Sat

24 June

16:30

doors open

17:00

round of sixteen B2

—

A1

21:00

round of sixteen D2

—

C1

'til

2:00

from the Mini-Record-Shop series: special guest echt-optimal, Munich meets a-musik, Cologne
Sun

25 June

16:30

doors open

17:00

round of sixteen B1

—

A2

21:00

round of sixteen D1

—

C2

'til

2:00

A – Muzak, from the Mini-Record-Shop series: special guest a-musik, Cologne, with dj Georg Odijk
Mon

26 June

16:30

doors open

17:00

round of sixteen E1

—

F2

21:00

round of sixteen G1

—

H2

'til

2:00

A – Muzak, from the Mini-Record Shop series: special guest a-musik, Cologne, with dj Georg Odijk
Tue

27 June

16:30

doors open

17:00

round of sixteen F1

—

E2

21:00

round of sixteen H1

—

G2

'til

2:00

Parole Italiane. Italy the favourite? special guest: live video by Lillevän
Fri

30 June

16:30

doors open

17:00

quarterfinal 1

21:00

quarterfinal 2

'til

2:00

Iran Movies From 1960-1970. Orient to Electro mit special guest dj & Master Drummer Saam Schlamminger
Sat

1 July

16:30

doors open

17:00

quarterfinal 3

21:00

quarterfinal 4

'til

2:00

Say no more. special guest: Ursula Block. gelbe MUSIK
Sun

2 July

20:00

doors open
no match

20:00

The Sound of Fear. Poltics & Social Security Sounds. The Temporary Soundmuseum meets Chronomad special guest Saam Schlamminger
Mon

3 July

20:00

doors open
no match

20:00

from the series Unfortunately we must remain outside special guest IZK informs: The following summons is issued by the Wiener Institut für Zeitgenössische Kulturgeschichte to students in Germany: Lecture "Der Ösi-Bomber ist kein Schläfer". Part 1
Tue

4 July

20:00

doors open

21:00

semi-final 1

'til

2:00

special guest Christof Cargnelli 8-Channel Audiodrome
Wed

5 July

20:00

doors open

21:00

semi-final 2

'til

2:00

special guest Christof Cargnelli 8-Channel Audiodrome
Thu

6 July

20:00

doors open
no match

20:00

Flick of a Hand Live Film Mix by special guest Joachim Kühn, Leiter Filmhaus Kino Köln
Fri

7 July

20:00

doors open
no match

20:00

Toyzone with Kunst oder Unfall. voice electronics toys tiny turntables
Sat

8 July

20:00

doors open

21:00

game for 3rd place

'til

2:00

k(l)ick it, sound collage for live electronica, spoken word, guitar, 1 referee and football toys with special guests Martin Krejci & Stefan Erhardt, in collaboration with THE DEADLY PASS - Magazine for a Closer Look at the Game of Football
Sat

9 July

19:00

doors open

20:00

Finale

'til

2:00

The Sound of Glory: The End Live Video by special guest Lillevän