Atem und innerest–Zwei Klanginstallationen
Exhibition/Cooperations
Parochialkirche
Zwei Räume von gegensätzlichem Charakter – hell und dunkel.
Eine Veranstaltung der singuhr — hoergalerie in parochial.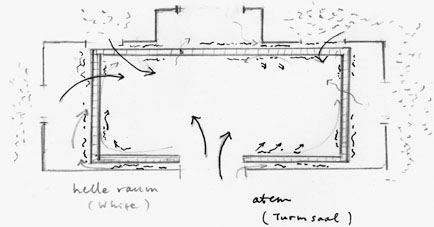 Atem und innerest 2006, Skizzen, © Miki Yui
Zwei Klanginstallationen, atem und innerest
um unsere akustische Wahrnehmung von beiden Seiten zu beobachten. Die Materialien und den Räume hinzugefügten small sounds richten das Ohr auf unsere Umgebung.
Atem
a white sheet of paper
awaiting for an image
atem – breath
awaiting to become music
blowing through us
Papierwände verwandeln einen Raum in ein Blatt Papier. Die Bewegung der Luft innerhalb und außerhalb der Papierwände verwandeln den Raum ganz sanft und so auch den Blick des Besuchers.
Innerest
brick wall with low ceiling
entering the space feels like
into internal
Verschiedene Materialien bilden eine landschaftsartige Struktur auf dem Fußboden. Gedämpftes Licht und subtile Klänge verweisen auf die langsam stattfindenden Veränderungen im Inneren.